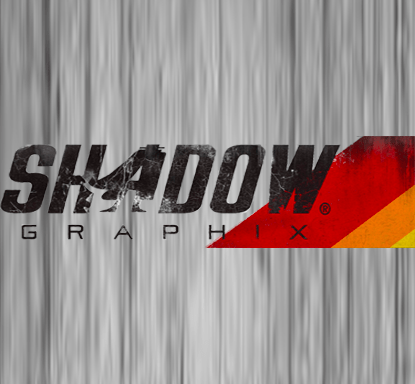 Do you have a Motorsports or Racing Team? At Shadow Graphix, we design and install Motorsport Wraps to give your vehicle the "wow" factor. Whether you have a fleet of vehicles to wrap for your team or you are an individual with your own personal motorsport race car, we can help you grab peoples attention. At the starting line, pit row or driving around town, your motorsports car will catch the eyes of everyone passing by. No matter what type of motorsport you are involved in, we more than likely have produced a wrap for your type of race car.
As one of the racing industry's premier motorsport vehicle wrap producers, our dynamic team of creative designers and installers pushes the rev limiter to create high-visibility sponsorship identities designed to be champions from junior dragsters to IndyCar and everything in between. From full race car vehicle wraps to company sponsor logos and to racing numbers, we have your covered from start to finish.
Most racing cars have a brand that they need to follow. We are used to working within these guidelines and parameters for our clients.  Producing Motorsports Wraps, logos, graphics and racing numbers on vehicles across the company, we have experienced it all. Your vehicle is in good hands and we will produce wraps that will last for years to come. Our Indianapolis Motorsports Wraps company will personalize, accessorize and customize your vehicle to reflect your style and needs. Each Motorsports wrap we design and install is custom for every client. Therefore, you will never see your design on another vehicle.
Our products and materials are made from one of the best vinyl distributors in the world. 3M has been in business for over 100 years and offers only the most durable products to their clients. With outstanding warranties, your vehicle is covered.


Partial or Full Wrap
Are you looking for a partial or full wrap? A partial wrap will only cover a portion of your race car. You pick the area you would like wrapped to accent and or display a logo, message or graphic. A full vehicle wrap covers your vehicle all over. From top to bottom, your vehicle will not only advertise, but it will also protect your vehicle from debris, the weather and everyday wear, and tear.
Help Us Help Your Brand Succeed
Download our artwork spec sheet to ensure we can produce the highest quality prints.