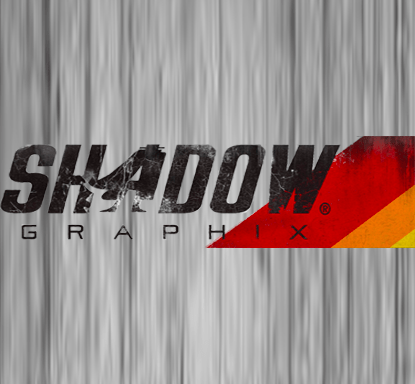 Shadow Graphix Inc. has been creating award-winning graphics since 1994.  We are in the racing capital of the world, Indianapolis, Indiana.  Our skilled team, provides design, printing and install service for all your graphic projects.  We proudly provide our services to a loyal customer base in the Indianapolis area as well as work with customers all over the state of Indiana, throughout the country and can outsource installation for nationwide account projects.
SHADOW MISSION STATEMENT
"Our mission is…
Providing creative solutions that help our customers with inspiring their concept, artistic design and executing their vision.  "
Our team of designers and installers are ready to transform your concepts into reality. Our designers will work with you one on one to tailor a design to fit your brand and utilize every possible piece of visual space on your vehicle. After the design is finished, our install team will take it from there. We have some of the best installers in the business.  Our attention to detail is unmatched and we make sure that carries over into your job.
Why Choose Shadow Graphix?
EXPERIENCE – We have been in business for over 24 years. With combined experience reaching almost 150 years.   We have the knowledge and experience to create and install graphics that will make your project stand out and last.
CREATIVE SOLUTION – We discuss your project with a creative brief and brainstorm as a team to achieve exactly what you are looking for. We will provide insight and direction to achieve the look that you desire.
QUALITY – We want a lasting relationship with our clients and quality for all of the products that we install. We take pride in our work and will never jeopardize quality to finish a job. Our installers have a passion for what they do and the desire to perfect each job they perform.
QUALITY PRODUCTS – There are a variety of options of vinyl to choose from, but at Shadow Graphix we use 3M and Avery product materials, which are the highest rated companies in the industry.
CERTIFIED INSTALLERS – Our trained installers are skilled professionals with strong attention to detail that carry the following certifications and endorsements.

3M Preferred installer
3M Architectural Endorsed
Avery Certified Installer
Knifeless Accredited
Lowen Certified Installer

GUARANTEE – We commit to ensuring our customers are happy with their graphics. Our goal is to provide you with an honest quote, excellent customer service and returning happy customers.